Welcome to the DIT2023 new student intake – Information Communication Technology Center
Welcome, all of you to the Information Communication Technology Center, Makandura (ICTM). We are pleased to be partnering with you as you participate in an exciting educational journey with ICTM. You will find unlimited opportunities to enjoy university life by learning, exploring, and engaging together. We work to promote a university climate that is respectful, civil, supportive, and safe. These core values allow us to provide a living and learning environment where we can all pursue our dreams and reach our highest potential.
The ICTM selected Diploma level students for its 12th batch and the inauguration ceremony will be held on 17th June 2023.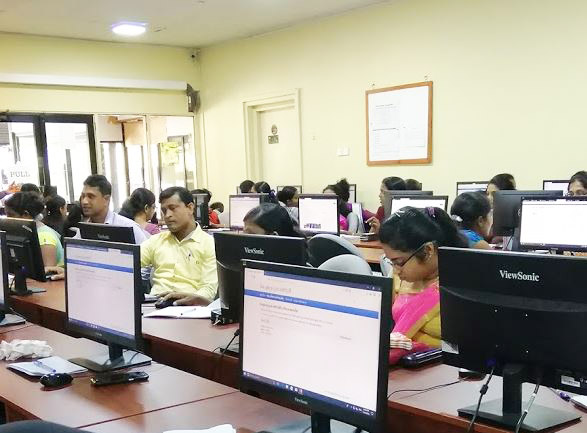 Instructions and Guidelines  
The main objective of this program is to prepare the students for the teaching and learning environment of the ICTM mainly operated through the virtual environment. At the same time, students will get a strong overview of academic expectations. Further, students will be acclimatized to their new environment by providing information on services, facilities, and student activities.
As enrolled students of the ICTM, you are responsible to maintain your attendance. Your behavior and adherence to disciplines and conducts will also be encountered in evaluating your overall performance.
Students are expected to attend all classes without fail. For unavoidable reasons, if a leave of absence is required, permission from the Course Coordinator should be sought.

All students should login to the online session on time and shall not leave the session without the permission of the lecturer.

Students shall keep themselves informed of the instructions issued to them from time to time orally, through web notices or emails.

Students are prohibited from organizing meetings, distributing notices, collecting money and exhibiting banners, flags, posters etc. without the permission of the Director ICTM.

Political/organizational activities are banned in the ICTM, participate only in official activities which are specifically permitted or sponsored by the university authorities.

All expressions or activities which are immoral, antisocial, communal and anti-national are strictly prohibited in the ICTM.

The Director, ICTM shall be the final authority in the interpretation of the rules. Matters not covered by these rules are left to the discretion of the Director and his decision shall be final.
For Academic Issues/Matters
Prof. W.J.S.K Weerakkody – Director ICT Center                                 Mobile: 0714401041
Dr. H.A.C.K Jayathilake – Course Coordinator – DIT                           Mobile: 0718129790
---
For Technical Support
Mr. E.M.D.S. Ekanayake- Assistant Network Manager      Mobile: 0719991115
Mr. Sampath Herath – Technical Officer                              Mobile: 0714136584
Mr. Tharanga Sandaruwan – Technical Officer                   Mobile: 0715505116
---
For Issues/ Support on using LMS (eLG)
Mr. G.W.D.D. Fonseka- Instructor in Computer Technology/ eLG Administrator      Mobile: 0705708496
---
For Course Management – Registration /Payment
Mr. Anuruddha Dharmapriya – Computer Application Assistant       Mobile: 0764835118